If you're anything like me, you like to be prepared for anything when you leave the house with kids. This means I have a lot of stuff to take with me, especially now that I have a 2 year old and a newborn. 
But I could never just throw everything into any old bag. I need a bag that's specifically designed for life on the road with kids. 
I'm looking for function, without losing out on style, of course. 
The OiOi Nappy Backpack looked good on paper. And when it featured in our 2023 best nappy bags list, I knew I had to test it out.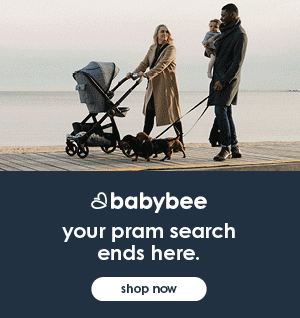 Key takeaways after testing this product
I'm a big fan of nappy backpacks. Especially now that my newborn Will has joined us, I need both my hands free. I find tote and shoulder bags continually fall off my shoulders or take up one of my hands, so I'm all for the backpack!
Previously I used the Mimco Mim-mazing Baby Backpack, and while I liked its compact size and that it didn't take up too much room in the pram, I often couldn't fit it all in – especially now that Will's came along.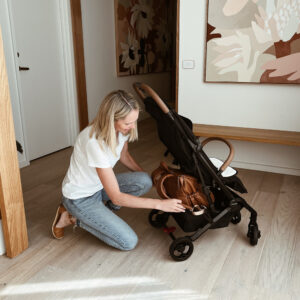 My favourite thing about the OiOi Nappy Backpack is that it's a really great size! It holds everything you need. It comes with a large top opening for easy access to everything inside, and a few (but not too many) internal pockets. 
Externally you've got a further 4 pockets, including 2 big pockets at the front that perfectly fit the things you want to grab quickly like your phone, keys, lip gloss etc.
The bag comes with a few free accessories, which is a really nice touch.
Firstly, it comes with a handy clear, plastic pouch that I use for dirty nappies. 
It also comes with a nice comfy, padded change mat. Whilst this is one of the most comfy change mats I've used, it does take up a fair bit of space so I don't always take it with me. 
An insulated bottle holder is also included. And whilst I haven't needed to use one before, it's a great size (will fully enclose a 330ml bottle) and is really nice and thick.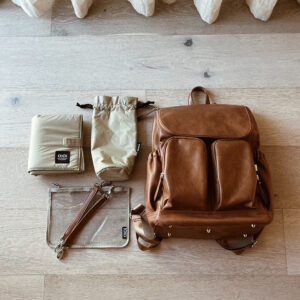 You also get stroller clips to hang the bag on your pram handlebar. But as the owner of two stroller companies, I must warn you that strollers are rigorously stability tested, typically without weight on the handlebar. So as soon as you add a bag this changes everything and could pose a tipping risk in certain configurations or when used in different conditions, like an incline. 
The bag is really comfortable to wear! The shoulder straps are soft and padded, making a heavy load easy to carry. I like how easy it is to adjust the straps, and you don't end up with adjustment straps hanging from the bag. 
The PU faux leather feels super nice and soft. Both the faux leather and the internal lining fabric are really easy to wipe clean.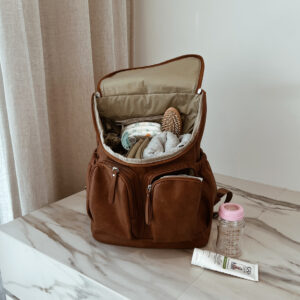 Personally, I'm not the biggest fan of faux leather bags, but this bag has won me over with its functionality and quality. It's definitely a very well thought out and cleverly designed bag with a lot of attention to detail. 
I really can't fault this bag on practicality or quality. You definitely won't be disappointed using this bag!
Shop the OiOi Faux Leather Nappy Backpack here.
The OiOi Nappy Backpack was tested by Emily and her daughter Mimi (24 months) and newborn, Will. This article has been produced by The Baby Edit.
This is general information only. If you need personal, health, medical or technical advice when it comes to your growing family, please seek out a professional.