A good change table can make or break your day. 
Let's be real here. Bubbas need a lot of nappy changes throughout each day, and they're not always so easy to change. Whether your newborn screams at the new sensation of laying on their back, or your little one instantly turns into a crocodile and rolls their way out of your grasp the moment you're trying to put a new nappy on them, there's a real art to change time. 
You may as well make your life a little bit easier with the perfect set up for you and your little ones. 
When it comes to buying a change table, you might be thinking, 'aren't they all just the same?'. Well, I'm here to tell you that there are differences that can make or break your day (or night). For a product you'll be using multiple times a day for at least 2 years (multiply that by the number of bubs you end up having), you're going to be using the change table a LOT! 
The Tasman Eco Turin Change Table has made our Best Change Tables list for a few years running now, so I knew I had to give it a try with the arrival of my second born, Will. 
Key takeaways after testing this product
The Tasman Eco Turin Change Table arrived flat packed, so assembly was needed. It was easy with 2 people and took us about 15 minutes (and bonus, no marital arguments!). The instructions were really easy to understand, and all parts, including the Allan Key, were included. We did need a screw driver though.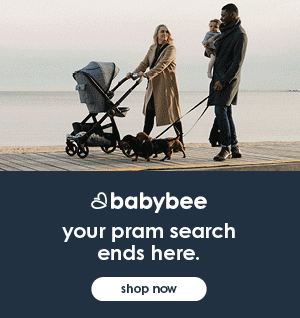 I suggest doing the assembly on a soft surface so you don't damage or scratch the table. 
Tasman Eco also sell spare parts on their website, which I love. If anything needs replacing in the future I wouldn't need to purchase a whole new change table. 
The Tasman Eco Turin is a big change table which is fantastic if you have the space. But, if you have a small nursery, it's best to measure your space before purchasing. 
Unlike a lot of change tables on the market, the Tasman Eco Turin has 2 shelves. I store a lot of baby junk on these shelves. I find it really handy having so much at reaching distance, especially during change time! 
I love the high side rails. There's no chance my little ones will fall! It even felt safe while wrestling my 18 month old crocodile to get her nappy back on (and that's really saying something!).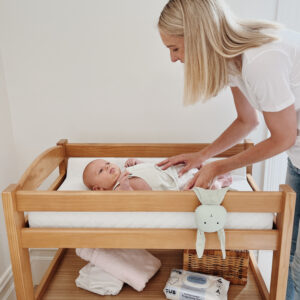 I can imagine the castor wheels could be really handy if you need to move your change table around, but I've never needed to do this. I've got to say though, the wheels move really well! But I find that because only the front 2 wheels lock the unit can move around a bit. I generally find that change tables without wheels tend to feel more sturdy and move around less.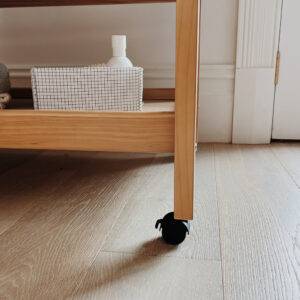 The Tasman Eco Turin doesn't come with a change mat, which is pretty standard for change tables – you can purchase one from their website for $44.99.
Though I've only used it for a few months with my newborn and 2 year old, I'm impressed with the quality of this change table. It feels as though it's built to last. 
It comes in 2 colours: white and 'sandstone' which has a woodgrain finish. I personally prefer the white, as I find the woodgrain finish doesn't look like real wood to me. 
Tasman Eco offers a 2 to 5 year warranty. They also use ethically sourced materials from sustainable forests around the world, so it's not only a quality product, but environmentally friendly too. 
Overall, if you have the space to fit this change table in your nursery, I'd definitely recommend it. It's a quality, safe and spacious change table that's easy to move around your house.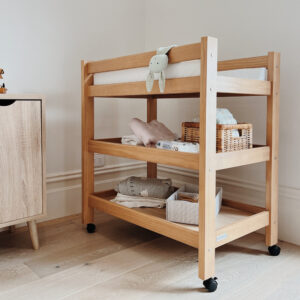 Shop the Tasman Eco Turin Change Table here.
The Tasman Eco Turin Change Table was tested by Emily and her 2 year old daughter and her newborn son Will. Photographed and produced by The Baby Edit.
This is general information only. If you need personal, health, medical or technical advice when it comes to your growing family, please seek out a professional.