There's a lot to consider when choosing a high chair. You've got to look out for sturdiness, ergonomics and leg support, and of course, how easy it is to clean (because let's face it, meal times can be messy business).
I've used many, many high chairs in my time. I know what makes a great high chair great, and what makes one a dud. 
When the Stokke Tripp Trapp was voted in our Best of High Chairs list for 2023, I knew I had to try it. 
I've come across this high chair time and time again. It seems to have always had a cult following for as long as I've cared about high chairs. (In fact, apparently it's turning 50 this year!). 
So I'm super keen to see if it really lives up to the hype that continues year after year.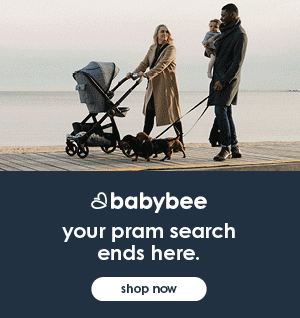 What is the Stokke Tripp Trapp?
The Stokke Tripp Trapp is designed in Norway, so naturally it has a stunning Scandinavian aesthetic. 
In typical Scandinavian style, it's not just a good looking chair, it's functional too. 
The seat and footrest adjust both the depth and height, so as bub grows the chair grows too. This isn't just convenient, it also means the chair is always ergonomic and comfortable for your little one. 
It also comes in a range of colours to suit any kitchen or dining room aesthetic. 
The chair itself comes pretty basic, but you can add accessories like a tray and straps at an extra cost.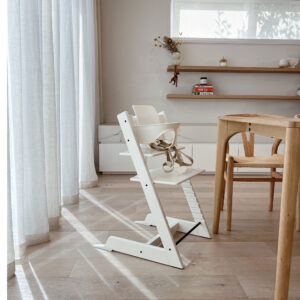 Key takeaways after testing this product
This high chair is definitely sturdy. It's designed to be used from newborn to adulthood so it would need to be! Made from solid European Oak and Ashwood, you can really feel the quality. 
Aesthetically, I don't personally see it as a 'statement piece' in my kitchen, but it's far from offensive and its Scandinavian simplicity makes it an easy fit into any kitchen. 
The best thing about this chair is its ability to adjust as your child grows. Both the seat and the footrest are fully adjustable, so no matter their age, the chair will fit them perfectly. 
The chair doesn't come with a harness, but you can purchase this separately. 
My two year old Mimi is able to use the chair without the harness. This chair made it easy for her to get into the chair and join us at the dining table for meal times. She enjoyed the independence of getting in and out herself. Though, it did make it a little more tricky to keep her from running off mid-meal.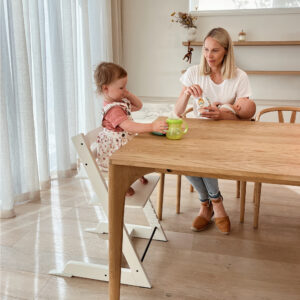 I tested out the harnessed seat with a friend's little one. It was easy to clip into the seat and was comfortable for the little guy. The harness straps were also easy to adjust. 
I tried to use the harnessed seat with Mimi, but found it wasn't always the easiest to get her in and out of because of how small the leg holes are. She's 2 years and 4 months old now and I had to get her to straighten her legs while lifting her out. If she's not in a very cooperative mood, she knows how to make this very difficult for me.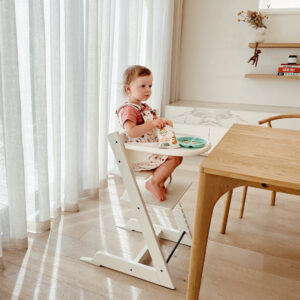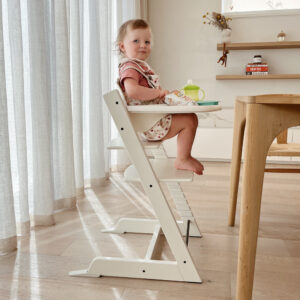 The chair doesn't come with a tray, but you can purchase this separately. 
The tray isn't adjustable but it's easy to use. I really like that it's not too far away from her body so food stays on the tray and not on her lap. 
It's probably worthwhile to check your table height. Stokke advises it to be used for average dining tables of 72 to 76cm high. The Stokke Tripp Trapp wont suit every pocket though. The chair itself is $429, tray $79.95 and baby set $119. The price point for all the inclusions I tested would come to around $627.
Note: Prices as per stokkeshop.com.au
But, if you're after a sturdy, quality chair that will grow with your little one and stand the test of time, or a chair that could be passed down to your children's children, then the Stokke Tripp Trapp is definitely one to add to your consideration list!
Shop the Stokke Tripp Trapp Chair here.
The Stokke Tripp Trapp Highchair was tested by Emily and her daughter Mimi (from 18 to 24 months) and produced by The Baby Edit.
This is general information only. If you need personal, health, medical or technical advice when it comes to your growing family, please seek out a professional.