It's understandable if you're on the fence about buying a playmat before bub comes along. I mean, there's a lot to tick off the list. But let me tell you, a playmat is a handy thing to have. From encouraging a newborn to do tummy time or creating a safe space for a toddler to explore their imagination, playmats grow as your little ones do. 
My personal preference are the padded plastic ones. Mostly because they're just so easy to clean. The padding is a bonus, especially if you have hard wooden floors to contend with. 
There are a lot of padded plastic playmats on the market these days. It's easy to think they're all the same, but there are some differences I think are worth considering. 
The Freddy & Co padded plastic playmat has ranked in our Best Playmats list for a few years now, plus with its stylish designs, I really wanted to try it out on my 2 year old daughter Mimi and newborn Will.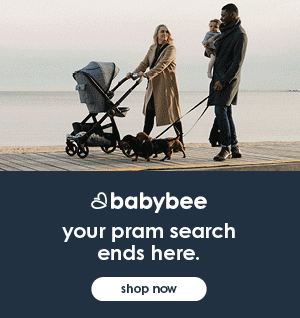 Key takeaways after testing this product
After a couple of months testing the Freddy & Co playmat with Mimi, I can confidently say it's a big hit!
The mat came rolled up, being held together with Velcro strips. What I like about these strips, is you can keep them to use again when you next need to store the mat. 
The mat didn't take much time to unroll and settle out flat. But they also have some tips on how to speed up the settling.
I love that this mat is made from non-toxic TPU foam . Mimi spends a lot of time on this mat and sometimes I'll put my newborn Will down for some tummy time, so it's reassuring to know that it's safe.
This mat is really soft and spongy. The first time I walked on it with bare feet I didn't want to get off! I like to use it under our mini-slide and climbing frame, so I know if Mimi has a fall she's got some padding to fall onto. This gives me peace of mind when I'm letting her explore her limits.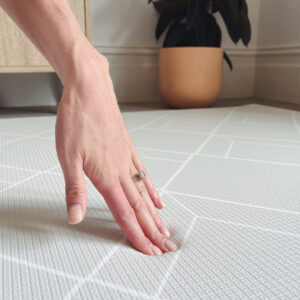 All plastic playmats are easy to clean, but this one is all plastic (no fabric edging), so it really is easy to clean. I find that it stays looking newer for longer than the ones with a fabric edge. 
I really like that this mat comes with two different sides. We like to call them the 'fun side' and the 'boring side'. Mimi loves to play on the 'fun side'. It helps her use her imagination and invent games, incorporating the animals and shapes into her play. I selfishly find the 'boring side' more aesthetically pleasing. It's nice to flip over to the 'boring side' when we've tidied the house and have guests over.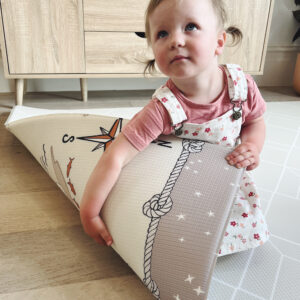 I can definitely recommend this one. I have no doubt we'll be using it for years to come, with multiple kids.
Shop the Freddy & Co Play Mat here.
The Freddy & Co Playmat was tested by Emily and her daughter Mimi (24 months) and baby Will (newborn-2 months),  produced by The Baby Edit. 
This is general information only. If you need personal, health, medical or technical advice when it comes to your growing family, please seek out a professional.