Ahh, the illusive quest to find the perfect pair of jeans. For many of us, it's a complicated shopping experience as we wrestle with denim in the change room, and that's before we were pregnant. Now as our body changes, the search for maternity jeans may appear even more out of reach. Until now.
Below you'll find our list of the Top 5 labels offering the best maternity jeans to get you through your pregnancy journey. We compiled this list after surveying thousands of pregnant mothers-to-be about the maternity denim they used, loved and would recommend.
This shortlist offers stylish solutions to your maternity wardrobe and ultimate comfort for you and your bump. Best of all, they're a dream to slip into. You may even feel inclined to wear them many years after your baby has arrived.
1: Ripe
Score: 7.7/10
Price: From $99.95
Purchase here

Ripe is an Australian owned and operated fashion label specialising in pregnancy and all stages of motherhood. Ripe really knows its customer because it was founded by two mothers during their first pregnancies who were uninspired by the maternity wear around at the time (it was the late '90s!). The pair decided to solve their own problem and Ripe was born. Ripe offers fewer styles with a focus on jeggings and slim leg stretch cuts in a handful of denim shades.
Key takeaways from our surveyed parents:
Classic, timeless styles that won't date and you can wear during future pregnancies

Accurate sizing and good fit
2: H&M
Score: 7.6/10
Price: From $39.99
Purchase here

H&M maternity jeans are affordable, stylish but perhaps best of all there's a broad variety of options to choose from. Whether you prefer skinny jeans, straight leg or bootcut, H&M's maternity denim selection has you covered. Their maternity jeans are available in a variety of denim colours also, so you'll never be limited for choice.
Key takeaways from our surveyed parents:
Lasted throughout all stages of pregnancy while remaining super comfortable

For mothers who prefer over-bump maternity jeans

A broad variety of styles on offer from denim cut and colour

Our community loved the wide jersey panel that fit well over the tummy
3: Just Jeans
Score: 7.4/10
Price: From $89.95
Purchase here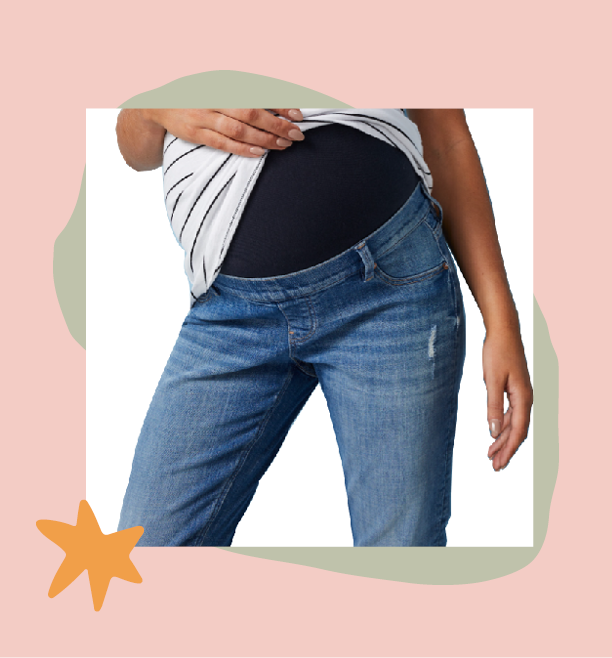 If you love a skinny jean then Just Jeans might be exactly what you're looking for. Their range focuses on the essential skinny jean that every woman needs in her wardrobe, in a range of key denim shades.
Key takeaways from our surveyed parents:
Comfortable over-bump option with room to grow

Stretchy fabric that doesn't feel too restrictive

No zips or buttons making it easy to get on and off
Our community loved that these jeans look like regular jeans

The elastic waistband is a different colour to the denim and some of our community found it hard to hide when wearing lighter coloured tops
4: Jeanswest
Score: 7.3/10
Price: From $79.99
Purchase here
For your everyday pair of jeans, Jeanswest has a range of styles available in all of your favourite classic denim shades.
Key takeaways from our surveyed parents:
Elastic stays in place

Extremely comfortable, but some of our community found the elastic waistband was a little uncomfortable in the early stages of pregnancy

Stretchy fabric

Good for tall women

Our community recommend trying on in person as sizing was inaccurate
5: Target
Score: 7.2/10
Price: From $50
Purchase here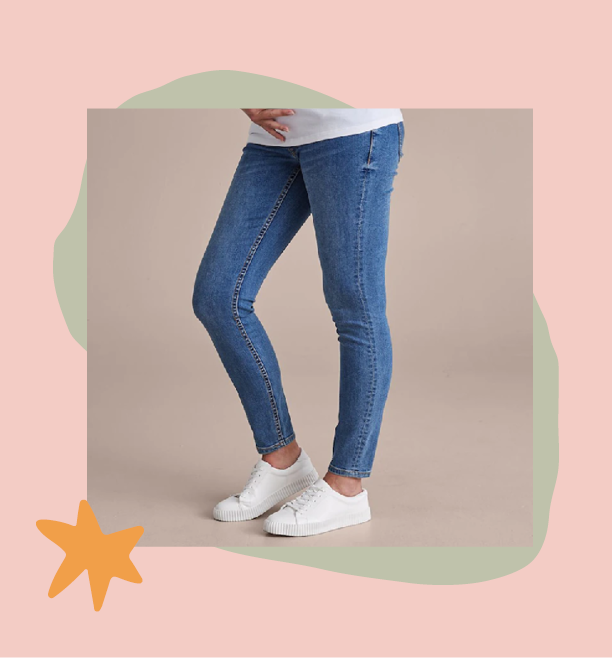 For a casual, everyday pair of jeans that are affordable, try Target. Their offering is limited to either joggers or jeans in the classic denim blue shade.
Key takeaways from our surveyed parents:
Belly band is comfortable, stretchy and fits well over-bump

Stretchy fabric that doesn't feel too restrictive

Our community felt the jeans had a good leg fit and could easily be dressed up

Some found that the waistband was too stretchy and could ride down 

Didn't last as long as some had hoped and were lacking pockets
This is general information only. If you need personal, health, medical or technical advice when it comes to your growing family, please seek out a professional.