Splish, splash it's bath time. While you don't need to wear a raincoat while cleaning bub, in our experience things can get a little splashy! This is why we definitely recommend investing in a baby bath or baby bath support/seat to help you along the way.
Bathing a baby is a bit of a juggling act but we promise you'll get the hang of it in no time. From getting the water temperature right (and we mean Goldilocks 'just right' temperature) to holding your bub at all times and making sure you yourself are in a comfortable position. However, after testing many baby baths with our little ones we've got you sorted when it comes to bath time.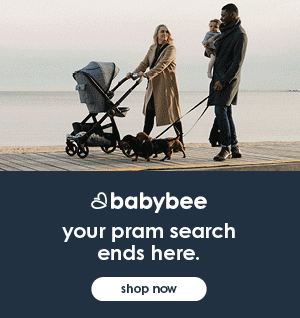 Do I really need a baby bath?
In our experience, a baby bath or baby bath support is nice to have but we've found them super helpful when bathing our own babes. We think they really offer some extra support, especially when you consider how slippery a wet baby gets! As a baby can't support themselves, it's important to always hold your baby/have one hand on them to support/supervise them at all times and important you wash them in a smaller vessel.
A lot of parents use the laundry or kitchen sink to bathe their baby but you'll want to make sure it's super clean and sterilised between uses.
Baby baths and baby bath support/seats are also really good if you live in a home without a laundry sink or bath, as they offer a portable and compact safe designated space to wash your little one.
What types of Baby baths are on offer?
Baby baths/tubs
These are small baths or tubs designated for bub. They are portable, compact and easy to move around the house. Some parents will position the baby bath in the 'grown up' bath or in a laundry/kitchen sink (size dependent), so it's easy to tip the bath water out at the end. Bonus tip: a baby bath filled with water is pretty heavy to carry, so fill it up once it's in position and keep it close to a drain to make it easy to empty.
Baby baths can generally be used from 0-12 months or until your baby outgrows it, from here you could consider transitioning to a toddler bath before bub moves to the 'grown up' bath.
Baby baths are excellent if you live in a home without a bath and want a designated, safe space to bathe bub. The good thing about a baby bath is that you know it's only being used for bub and with a clean after each use will be safe for bub to use, compared to a kitchen or laundry sink that is multipurpose and could have residue of laundry detergent, food etc.
Baby bath support/seat:
These are small seats/support systems designed for bub to sit on during bath time. These products generally sit within a bathtub or laundry/kitchen sink as opposed to a baby bath that is a designated tub of water.
Some parents prefer to use these if they already have a bath in the house and would like some extra support when holding their bub in the bath.
Baby bath supports/seats are generally designed to be used from newborn to around 6 months or when your baby can support themselves. As they are smaller products, they are also generally more lightweight and smaller making them easier to store between uses.
What to look for when shopping for a baby bath?
Good support: Newborns can't sit up or support themselves, so you want to look for a baby bath or baby support/seat that really supports your baby's head and shoulders.

Slip control: A wet baby is a slippery baby and in our experience most babies are wriggly babies. Look for a baby bath/support with a slip grip.

Drainage: Does the product you're considering come with a drain? It might not sound like a big deal but a drain/plug will make it super easy to empty your bath after use. A baby bath filled with water is really heavy and lifting it/tipping it out can be a hassle compared to simply draining it.

Storage: Think about the size of the product you're considering and where you'll store it in between uses.

Maintenance: How easy is the product to clean? You'll want to look for a product that's also easy to dry to avoid mildew developing. Baby supports/seats that incorporate soft mesh are a great addition as they dry quickly and prevent mildew.
Now that you know what to look for when shopping for a baby bath, it's time to find the right one for your family. We've made this easy with our 2023 Best Baby Baths and Seats in Australia. We compiled this list after surveying thousands of Australian parents about the baby baths and bath seats they used, loved and would recommend.
1: Roger Armstrong Aquascale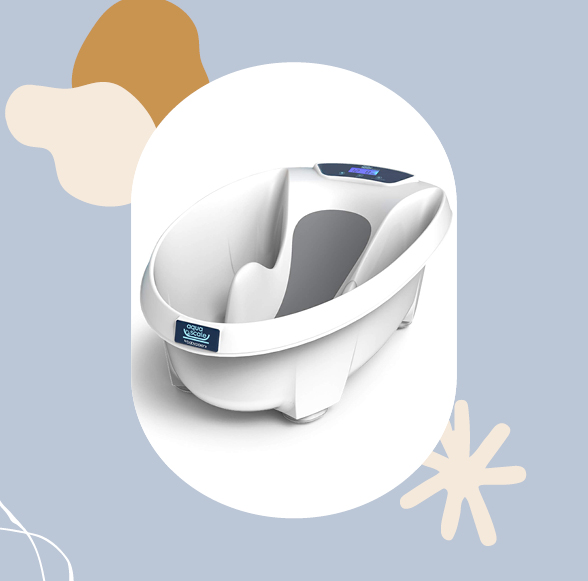 Roger Armstrong Aquascale has an ergonomic design that features an anti-slip panel as well as arm and bottom support that holds baby comfortably and securely. The bath also comes with a thermostat so you can make sure the water temperature is just right. With the added benefit of scales, you'll never have to eagerly wait for your next maternal child health appointment to check on bub's weight gain. The bath comes with a plug and is easy to clean with the removable bottom support.
Key takeaways from our surveyed parents:
The shape of the bath comfortably holds bub

Parents loved the temperature gauge

Bath can also weigh bub

Parents don't like that the stand comes separately
2:
Shnuggle Baby Bath
Score: 8.52/10
Price: $69.95
Purchase here

The Shnuggle is designed to make bath time less stressful for parents and more fun for your baby. This bath tub is suitable from newborn until your bub is 12 months. Once your bub outgrows this bath, Shnuggle has a toddler bath suitable for children 12+ months. The curves and silhouette of the Shnuggle have been designed to be super ergonomic and comfy for your little one and to help prevent any slips. The base of the bath has a 'bum bump' designed to support babies in an upright position and slip grip near the head and neck support. The Shnuggle also has a drain plug that makes it easy to refresh the bath with water and tip out old, and makes it easy to tip out post wash.
Key takeaways from our surveyed parents:
Parents loved the shape of the bath

Offered good support for bub, like the baby booster for their bottom and foam cushion for their back, keeping parents arms free
3:
Skip Hop Moby Smart Sling 3 Stage Baby Bath
If you're looking for a baby bath all rounder that you can use from newborn and beyond, then Skip Hop's Moby Smart Sling 3 Stage Baby Bath might be for you. This product is a baby bath and baby support/seat all-in-one and is designed to grow with your bub over three stages. Stage one is to be used from newborn to 3 months, stage two from 3-6 months and stage three for 6+ months when your bub can sit up and support themselves. The mesh sling is like having an extra pair of hands to help you during bath time and locks into two ergonomic positions that offer comfort to your baby. For newborns it offers head to toe cradling and in the second position supports infants learning to sit. When bub can sit upright by themselves, simply remove the sling and it converts to a spacious bath tub. We particularly love the design and whale shape that makes bath time fun and that it has a drain plug too.
Key takeaways from our surveyed parents:
Parents love the newborn sling as it supports bub and prevents them from sliding down the bath

Parents liked not having to hold bub in the bath

Love the three-in-one versatility that parents can use this bath from newborn to when bub is around 12 months

Some parents found the bath to be too shallow not offering bub the fun of splashing about
4:
Infasecure Ulti Deluxe Bath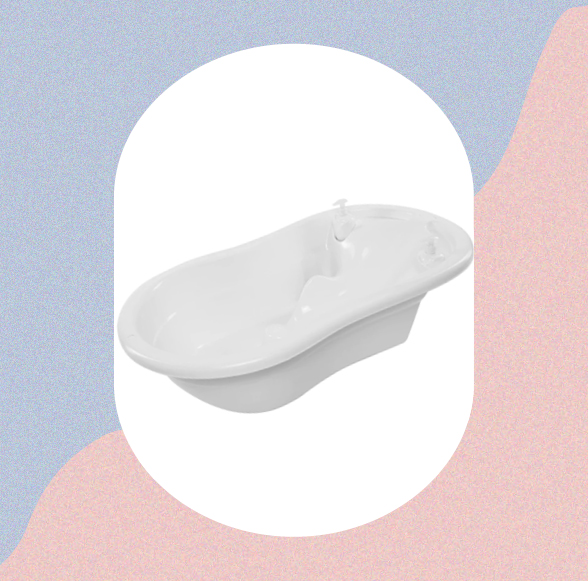 The Ulti Plus Deluxe Bath features in-built moulded supports that hold your baby in the lay back position comfortably and securely. You can use the other end of the bath for the upright position for bubs who can sit up. The bath also comes with a plug and hose, two built-in soap trays and two pump dispensers for liquid soap and baby shampoo.
Key takeaways from our surveyed parents:
Parents found this bath very sturdy and easy to use

Stand is sold separately
5: Kmart Collapsible Bath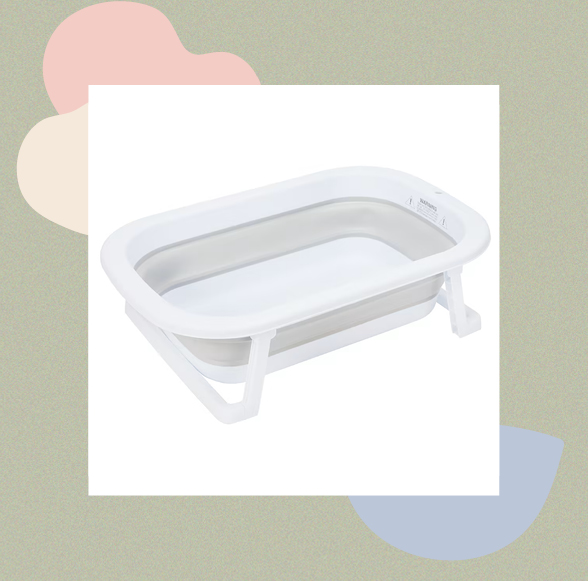 Perfect for small houses and bathrooms. This bath folds down for easy storage. It comes with non-slip folding legs, plug and a built-in heat indicator which changes from blue to white when the temperature is too hot for bub.
Key takeaways from our surveyed parents:
Parents loved that this bath is collapsible and easy to put away

Parents found their bubs outgrew this bath quickly

6: Big W Big Softies Baby Bath Tub

This bath is a super affordable option. Featuring a plug, soap trays and a rounded mould design to hold bub comfortably.

Key takeaways from surveyed parents:

Affordable and does the job

Some parents found it big and difficult to store

7: Target Baby Bath

This is another super affordable baby bath that is simple, practical and easy to use. There aren't many frills to this product but it does offer a somewhat spacious and designated space for you to bathe your baby. Again, parents valued this product for its price point versus the product life span of baby baths. This baby bath is particularly light weight but has no drainage or grip support, so this is something to keep in mind if considering this baby bath.

Key takeaways from surveyed parents:

Parents like the simplicity of this bath

Easy to fill and clean

Good price point

Parents wished it came with a plug

Parents found this bath was difficult to empty once full as it was very heavy to lift

This is general information only. If you need personal, health, medical or technical advice when it comes to your growing family, please seek out a professional.