Your body experiences many changes as you grow your bub and we're not just talking about the very interesting dietary palette you've recently acquired. One of the earliest and most noticeable of these changes is your growing breasts. Throughout your pregnancy and after bub has arrived, they will increase in size, become fuller, heavier and more dense, which means they need extra support.
Shopping for a nursing bra may be one of your earliest 'pregnancy purchases', especially as they start to feel extra tender and are begging for a comfortable bra to take edge off! When exactly you purchase your pregnancy bra or singlet is up to you, but generally it is around the four month mark, or earlier if your breasts are feeling extra sensitive.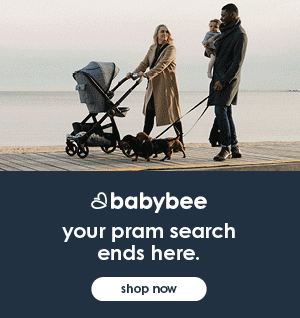 Finding the perfect pregnancy and nursing bra can be tricky, which is why we've done the hard yards for you below. Generally, most women go up one or two band sizes and one or two cup sizes (but again this will differ from person to person).
What to consider when shopping for a maternity/nursing bra or singlet 
Comfort: Look for a bra with no underwire in a soft, stretchy fabric that offers good coverage of your breasts. You want your breast to feel snug but not too tight or as flat as a pancake.
Good support: As your breasts grow bigger, heavier and more tender, you'll want a bra that offers excellent support. Look for a bra with a wider back band and adjustable straps.
Size: On average most women go up one to two band sizes and cup sizes when pregnant and nursing. Look for a bra that will grow with you on your pregnancy and nursing journey. Also ensure your bra has enough space for nursing pads in the cups (you might not need this yet but you will need it later and want it to be as a comfy as possible).
Nursing clip: Once bub arrives, if you're breastfeeding you'll want a bra with nursing clips. Most pregnancy/nursing bras have built-in nursing clips ready to go for when you need them. Make sure the nursing clips are easy to use, easy to reach and easy to unclip with one hand because chances are you'll be holding bub in your other. A nursing clip allows you to expose the breast to feed your bub without having to take off your bra.
Practical for feeding: Make sure your nursing bra is super easy to use and practical for feeding. You don't want a bra that's tricky to unclip when you have to feed your little one multiple times a day. If buying in real life, have a play with the nursing clips and ensure they're not too fiddly to use.
Now, that you know what to look for when shopping for pregnancy and maternity bras, it's time to find the perfect fit for you. To help you find 'the one', we surveyed our community of TBE parents to find out which pregnancy and nursing bras they used, loved and would recommend to compile the list below. Here are the results and the best places to buy them in Australia: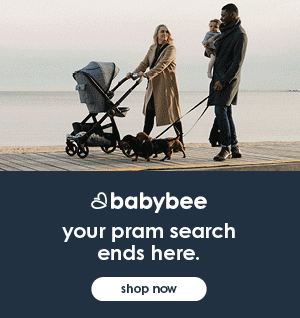 1: Hot Milk   
Score: 8.67/10
Price: From $49.95


Purchase here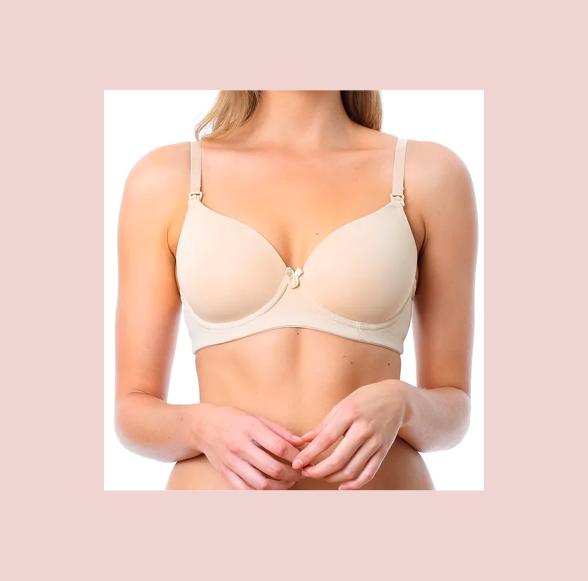 Hot Milk is your one stop destination for all things maternity and nursing bras, tshirts, activewear and sleepwear. Hot Milk also categorises its products by trimester, so it makes it really easy to identify what products you need throughout your pregnancy journey. This brand is also known for design-focused lingerie that looks and feels like the type of intimates you may have enjoyed wearing before and after you were pregnant but with the added bonus of being super practical when feeding your new bub or to support your growing breasts.
Key takeaways from surveyed parents
Parents loved the variety of styles and designs that were similar to their lingerie pre-pregnancy

Parents felt the nursing clip was placed in an easy to access position

Parents felt these bras were really good quality and even though a little pricier compared to others on the market, worth the price

Most parents purchased online, so weren't able to try on in real life
2: Bonds   
Score: 8.29/10
Price: From $29.99


Purchase here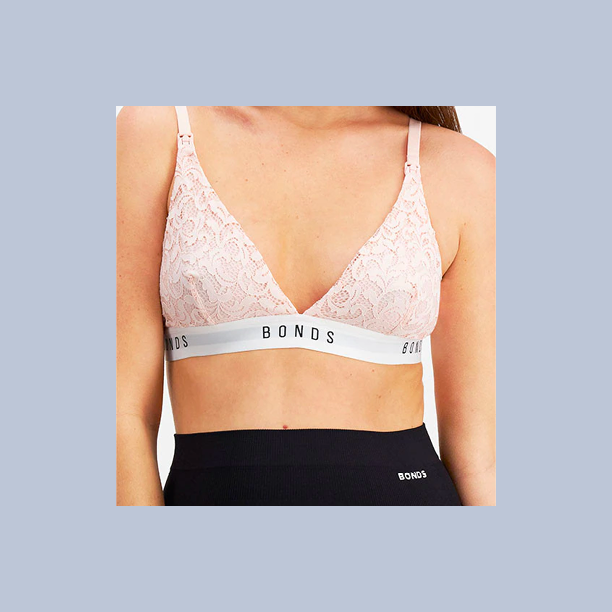 Bonds is a household name that needs no introduction and has been very popular amongst our parents in this category and also our newborn onesie category. For go-to, dependable basics in your parenting journey, Bonds has you sorted especially when it comes to maternity and nursing bras. Parents particularly liked how easy the nursing clips were to use and feed their bub, as well as the wire free styles that were super comfortable.
Key takeaways from surveyed parents
Parents felt the nursing clip was easy to reach and unclip

Parents felt Bonds' maternity and nursing bras were good quality and were long lasting

Some parents felt the straps were a little thin and would have preferred them to be wider to offer a bit more support

Some parents also felt the cups could have had more padding
3: Target 
Score: 8.23/10
Price: From $15


Purchase here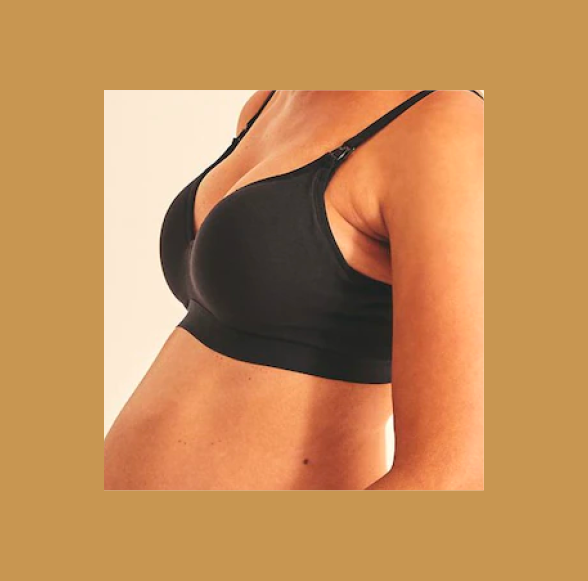 Target has a range of maternity bras and singlets that are both comfortable and affordable. In their range, you'll find wire-free as well as seamless maternity and nursing bras. Our surveyed respondents were also fans of Target's maternity and nursing camisoles as well as crop tops that were super supportive of their growing breasts.
Key takeaways from surveyed parents
These bras are good value for money

Some parents felt these bras were not as long lasting as other nursing bras and singlets on the market

Parents felt these bras were relatively comfortable with no wire but also felt these products could have been more supportive

Some parents felt the fit was varied and would recommend trying your size before you buy

4: Kmart 

Score: 7.83/10
Price: From $12


Purchase here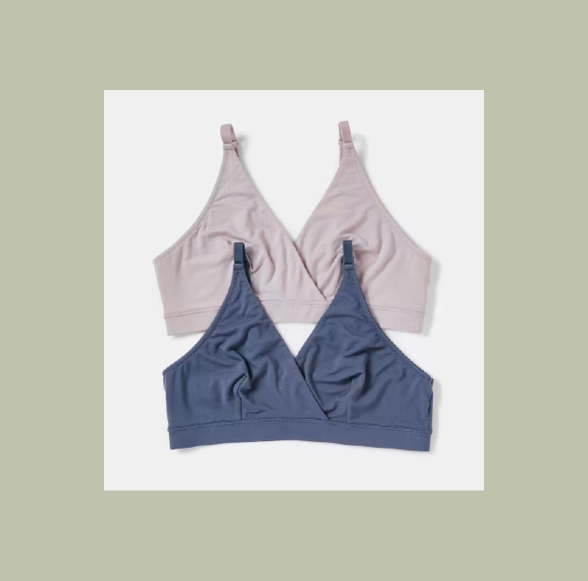 If you're looking to bulk up on maternity lingerie at a really good price, you can't go past Kmart's 2-packs that start from $19. However, Kmart's range is fairly limited compared to others on this list and predominantly specialises in wire-free cross-over maternity and nursing bras.
Key takeaways from surveyed parents
Parents felt these maternity and nursing bras were very good value for money

Parents felt the styles and options for maternity bras were limited at Kmart

Parents commented on how soft and stretchy these bras were

Some parents felt these bras could have offered more support as especially as their breasts got larger throughout their pregnancy journey
This is general information only. If you need personal, health, medical or technical advice when it comes to your growing family, please seek out a professional. Images sourced from Hot Milk, B Free, Bonds, Target and Kmart.