We learn early on in life the value of a good night's sleep. We wake up feeling well-rested and ready to tackle the day ahead. While the average adult sleeps eight hours a night, according to Better Health a newborn sleeps up to 12 to 16 hours a day in short spurts between regular feeding. That's a lot of REM time!
For adults, sleeping in a bed is a straightforward process. For newborns, usually it's a choice between a cot or a bassinet. The main difference between the two is their size with bassinets being smaller.
Red Nose recommends newborns sleep in the same room as their parent for at least 6 to 12 months. Depending on the size of your cot and bedroom, this may be a tight squeeze. However, a bassinet is likely to fit as it's more compact.
Another key difference between a cot and a bassinet is the period of time you can safely use them. A cot is safe for newborns and toddlers, and sometimes longer if your cot converts into a toddler bed.
Whereas, Red Noses advises bassinets should stop being used once your baby shows signs of being able to roll. On average this happens at around four months but will differ from baby to baby. Either way, once your little one is getting active, you'll need to retire the bassinet and transition to cot sleeping.
Whether you decide to use a bassinet or cot from the get-go is a personal preference. If you're unsure where you sit when it comes to the bassinet, we're here to help out.
The first thing you should know is that there are no Australian safety standards for bassinets (like there are for cots or prams). This doesn't mean that bassinets on the market are necessarily unsafe but you will want to make sure you're super vigilant when purchasing one. Lucky for us, Red Nose Australia have this handy guide to help you make a safe choice.
What to look for when buying a bassinet according to Red Nose
A sturdy bottom and wide base, so it can't tip over

All four sides of the bassinet to be 300mm higher than the top of the mattress base

A firm, flat mattress that is no thicker than 75mm in thickness and is the right size for your bassinet

Good breathability zones on all four sides of the bassinet to provide good ventilation for your baby

Now that you've read this far, you may be edging closer towards Team Bassinet. To keep things transparent around here, we want you to know we exclude all Babybee products from our Best Of lists and individual reviews.

With this in mind, here's our list of the top bassinets as rated and road-tested by our surveyed community. Here's what they loved and want you to keep in mind if you're considering one of the below:
1: Tutti Bambini CoZee Breeze Bedside Bassinet

The CoZee Breeze Bedside Bassinet is an all-rounder. It's on wheels for easy mobility. It has top-to-bottom mesh sides, which increases airflow and enables 24/7 visibility of your sleeping baby. It can also be used as a standalone bassinet or as a bedside sleeper, where your little one can sleep directly next to your bed but in their own safe space.
Key takeaways from our surveyed parents:
Parents loved the versatility of this product and that it could be used as a standalone bassinet or beside sleeper

Parents loved the adjustable height
2: Tasman Eco Rascali Bassinet
Score: 9/10
Price: From $199.99
Purchase here

For those on the fence about whether or not to get a bassinet, the Rascali by Tasman Eco might sway you to the side of 'Let's get one'. This affordable option appeals to many parents because they know a bassinet can only be used for six months or less. This modest design is easy to assemble, compact and gets the job done.
Key takeaways from our surveyed parents:
They loved the breathable mesh on all four sides of the bassinet, which promotes airflow but also means you can see your baby while they sleep

This bassinet is super portable, it's on wheels and easy to move from room to room
3: SNOO Smart Sleeper
Score: 9/10
Price: $1395 (USD)
Purchase here

If you're a fan of gadgets that make life simpler, from the sound of Alexa's voice to your robot vacuum cleaner, then the SNOO Smart Baby Sleeper might be for you. The SNOO was created by pediatrician Dr. Harvey Karp. Using advanced technology, this interactive bassinet can sense when your baby's sleep is disrupted and uses white noise and gentle motion to soothe them back to sleep. It's no surprise some parents refer to the SNOO as a '24/7 babysitter'. Read our review of this product here or watch our review of this product here.
Key takeaways from our surveyed parents:
Parents said this bassinet is like an extra pair of hands as it rocks automatically

"Lifechanging!"

Some parents found that there little one didn't like the rocking motion or it kept them awake
4: Love N Care Dreamtime Sleeper
Score: 8.8/10
Price: $429.99
Purchase here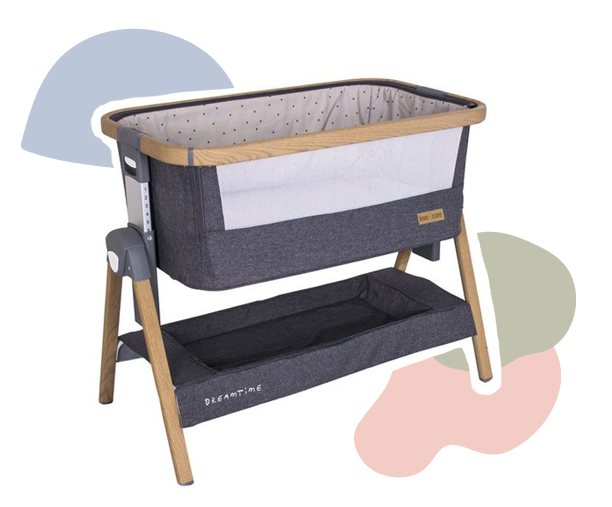 he first few months of a newborn can come with long nights of endless feeds. Have bub sleep right next to you, safely, to make those long nights a little bit easier. The Love N Care Dreamtime Sleeper also allows you to use it as a standalone bassinet. You can even adjust the height to meet your mattress, or tilt which can help some babies with reflux. It has a removable inner liner for more breathability in the hotter months, and even comes with the mattress. 
Key takeaways from our surveyed parents:
Adjustable, lightweight and generous in size

Parents found the adjustable height made it easy to get at bub during the night feeds

Some parents found it not as sturdy as they would have liked
5: Boori Tidy Bassinet
Score: 8.7/10
Price: $329.95
Purchase here

The Boori Tidy Bassinet is cleverly designed to integrate multiple practical options once your little one has grown out of it. Once bub transitions to cot sleeping, you can reconfigure the Tidy bassinet into a change table, toy storage, or laundry or bathroom storage shelving.
Key takeaways from our surveyed parents:
Parents like how the wheels make this bassinet so mobile

Parents commented on the quality and sturdiness of this bassinet

A lot of parents liked the mesh sides

Some parents would have liked a storage basket underneath or the ability to rick the bassinet

6: Childcare Osmo Bedside Sleeper

The Childcare Osmo Bedside Sleeper is an affordable bassinet and co-sleeper option. It comes with height adjustment, including a tilt function which can help with some babies reflux, netted sides for good circulation and a mattress.

Key takeaways from our surveyed parents:

Parents found it breathable

Parents loved it had a co-sleeper function

Large enough to last a while as bub grows

Has wheels making it easy to move around, although the wheels only go in one direction

Challenging to find sheets that fit

7: Roger Armstrong Bedside Sleeper

Score: 8.3/10
Price: $329.95
Purchase here

The Roger Armstrong Bedside Sleeper comes with both bassinet and co-sleeper modes. It offers height adjustment, including a tilt function. It has adjustable feet that allow the bassinet to sit right up against your bed.

Key takeaways from our surveyed parents:

Easy to put together and use

Very spacious, making it last for a while as bub grows

Slightly larger bassinet size made it a little difficult to find sheets that fit

8: 4Baby Co Sleeper

Another affordable option that has both the bassinet and co-sleeper modes. It features mesh sides for good ventilation, adjustable heights including tilt and non-slip feet. It also comes with a mattress.

Key takeaways from our surveyed parents:

Spacious bassinet lasting a long time

Parents liked how it can be rocked while being close to the bed

Parents found the mattress wasn't as comfortable or durable as they expected
This is general information only. If you need personal, health, medical or technical advice when it comes to your growing family, please seek out a professional.