Well, it's probably not a surprise the hours on your sleep odometer have dropped since the arrival of your newborn. We promise, it does get better! But in those early months figuring out a sleep routine that works for your family takes some trial and error, especially for your little one, who is adjusting to life outside of the womb.
How does white noise help soothe babies?
The womb is not a quiet place and for nine months babies get used to hearing a symphony of bodily sounds from hearts beating to blood pumping every second of the day. Together these sounds create a buzzing hum but when babies enter the world, this comforting sound vanishes.
It can be a bit of a shock for your little one hearing the unfamiliar, which is why white noise and sound machines exist. These products are designed to replicate sounds to help soothe your baby to sleep. White noise and sound machines are also excellent for drowning out background noise.
What types of sounds are available?
There are sound machines that produce a variety of calming sounds; think rain, ocean waves, nature sounds or even lullabies.
Then there's white noise, which is a blend of various pitches of sound that create a continuous buzz (such as radio static, a fan, hair dryer, vacuum or car engine). No sound is better than the other, it simply comes down to personal preference and what sound your bub responds to more.
Considerations when shopping for a white noise or sound machine for your baby
Every baby is different and therefore white noise may not work for every baby. We suggest you test a few free baby-friendly white noise sounds on YouTube or Spotify before investing in a machine.
If your baby does respond well and you decide to purchase one, ensure the machine you choose is safe and does not exceed noise limits that can be harmful to your baby.
Also ask yourself how you intend to use the white noise or sound machine: Do you want it for when your baby is sleeping in their room? Or do you want one for when you're out and about?
If you want to be able to use your sound machine in various places look for one that's portable and is battery operated. If you want to be able to use one throughout the night, look for one that automatically plays for a few hours (or endlessly).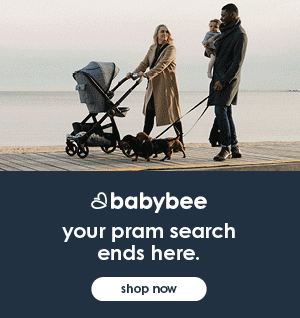 Important to know
A white noise machine should never be left in a cot or bassinet with your baby. You should always set it to a volume where you can always hear your baby's cries over it.
Now, while these machines may offer a temporary solution to better sleep, we want to avoid our little ones becoming too dependent on them. The eventual goal? We want our little ones to fall asleep independently without white noise.
But for those looking for a good night's sleep today, not tomorrow, a white noise or sound machine may be worth a shot. To find the best out there, we surveyed thousands of Australian parents about the white noise and sound machines they used that helped make sleep time, dreamy. Here are their top picks:
1: Lively Living Aroma-Snooze

The Aroma-Snooze is an all-in-one product that makes life a little easier for parents. The product features sound therapy including lullabies, pink noise, rain and heartbeat sounds. It's also an air purifier and cool mist vaporiser (which can be used with or without essential oil). The Aroma-Snooze also functions as a lamp with Red LED light (scientifically proven to support sleep) as well as cooling blue and green lighting options. It also has a record function, where you can record yourself saying comforting words for your baby.
Key takeaways from our surveyed parents:
Parents loved the versatility of this product with its white noise, aromatherapy and lighting functions

Parents loved its sleek, modern design and that it could be used by anyone in the family

This product comes with a variety of colour lighting, including red LED that helps stimulated melatonin during bed time

This product is pricier compared to other white noise and sound machines on the market

The Aroma Snooze needs a wall socket to operate
2: Euky Bear Sweet Dreams Sleep Aid
Score: 9.1/10
Price: From $79.95
Purchase here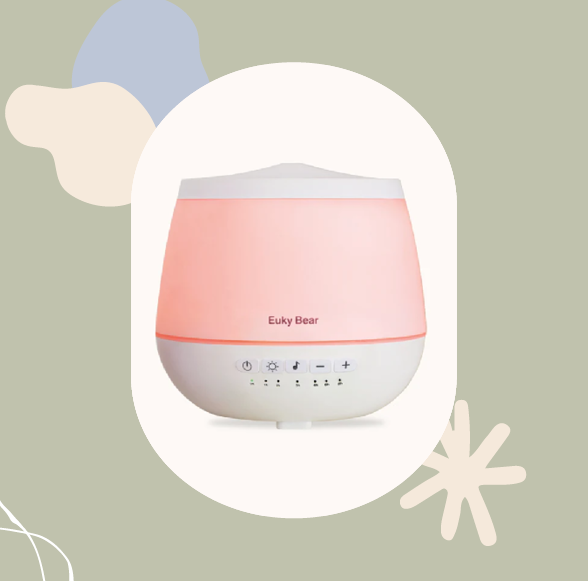 The Euky Bear Sweet Dreams Sleep Aid combines the benefits of sound, light and aromatherapy to help bub achieve a deep sleep. It gives you several sound options to choose from including pink noise, lullabies, water and a heartbeat. It comes with red light therapy, eight rotating light colours, and aromatherapy humidifier. It runs all night long.
Key takeaways from our surveyed parents:
Parents liked the versatility of this machine as it could be used as a sound machine, a diffuser or a night light

Comes with a good range of sounds and volume levels

Parents liked the simple design and that it is compact

This machine needs a power outlet so isn't portable 

Some parents would have liked the option to set a time on the diffuser
3: HoMedics My Baby Sound Spa On-the-Go

This product plays four different soothing sounds, including lullaby, heart beat, white noise and ocean with auto timer options at 15, 30 or 45 minutes. It's compact, which parents loved as they could take it anywhere and it didn't take too much room in the nappy bag.
Key takeaways from our surveyed parents:
Parents loved the clip and go function of this product, simply attach it to change table, pram or car seat

It's affordable and good value for money

The battery life can be short depending on how often use it (so keep some spare batteries handy!)

This product is purely a sound machine and does not have any added features like lighting
4: Glow Dreaming
Score: 8.2/10
Price: From $109.95
Purchase here

Glow Dreaming is a white noise machine, night lamp and diffuser all in one. You can shop for the Glow Dreaming as a single unit for $109.95 or there are several bundle options available, including the Newborn Premium ($173.95), which comes with a customised ICRA Sleep Program (Individualised Circadian Rhythm Amelioration) for your baby.
Key takeaways from our surveyed parents:
Our parents loved the adjustable light brightness with three red and three green options

Red LED light function is for sleep only as it stimulates our body's natural melatonin and tells us its sleep time

The green LED light is best used when your bub is awake and active

Parents also loved accessorising their Glow Dreaming with the cute illustrative sleeve options

The Glow Dreaming can be used for long periods of time (10 hours+), so you don't have to worry about it switching off in the middle of the night and disrupting your baby's sleep

Our survey did indicate a very low report of the Glow Dreaming leaking water, so make sure you fill the humidifier as per the product's instructions

There was also one report of the buttons on the front fading over time

This was a pricier option compared to other white noise machines on the market

This product is not portable, it needs access to a wall socket to function
5: Riff Raff Sleep Toy

This cute collection of animal comforters was the most purchased product in our survey in the white noise category and we can see why. The Riff Raff is adorable, practical and portable. This product's clever design is part toy, part comforter and part sound machine. Simply press the animal's ears for your choice of white noise with a heart beat or a lullaby. This product has two volume levels and playback settings of 20 and 40 minutes. While it cannot be used throughout the night, it's been designed to automatically turn off when your bub is at their deepest sleep.
Key takeaways from our surveyed parents:
Parents loved that the Riff Raff was a cuddly comforter that quickly became one of their most used products

After using it for their own child, a lot of parents went on to purchase this product as a gift for other expecting parents because they considered it a must-have!

Parents loved the variety of Riff Raff Animals (including bunny, fox or koala to name a few), which you can get personalised with your child's name (making it hard to lose!)

The versatility of the product was a big plus, as the comforter also functions as a dummy holder and has a security strap to adhere to prams, cots, car seats

Another big plus is that you can take the Riff Raff anywhere, it's battery operated and portable

Parents mentioned the battery life was short (so keep spare batteries around)

The Riff Raff is also machine washable, simply remove the sound box and put the comforter in the wash

Some parents would have preferred if the Riff Raff played for longer than 20 or 40 minute intervals
This is general information only. If you need personal, health, medical or technical advice when it comes to your growing family, please seek out a professional.