For tiny little things, babies come with a lot of stuff. If you're expecting for the first time, it's an exciting time getting set up for your baby's arrival. You're comparing prams more rigorously than you when you went shopping for your first car. You're investigating sound machines like you're on the pathway to becoming an audio engineer. You've ditched Netflix for YouTube tutorials on how to safely swaddle a baby.
When it comes to baby gear there are the essentials and the nice-to-haves but one product that can slip through the cracks is the nappy bag.
Why consider a nappy bag?
Is it really essential to buy another bag when you already have a wardrobe full of perfectly good bags? Before becoming a parent, we thought the same. Surely our favourite tote bag would suffice? We quickly learned otherwise and are here to sing the praises of the humble nappy bag.
While on the surface a nappy bag may not appear as important as your big ticket baby gear items, such as a pram, cot or car capsule, it really is a baby product essential.
A nappy bag will become one of your most used baby products, in fact you're likely to use it every time you leave the house. Remember when we said babies come with a lot of stuff? Well, your nappy bag is where a lot of that stuff lives when you're on-the-go.
The three most common nappy bag options
Tote nappy bags: Usually with two shoulder straps and worn on one shoulder

Messenger nappy bags: Usually with one shoulder strap and worn across the torso

Backpack nappy bags: Worn and looks like a backpack but with the perks of nappy bag storage
Before selecting a style, think about your lifestyle and how you best want to use the nappy bag. For instance, if you prefer to be hands free, you might lean more towards a backpack style with comfortable padded straps compared to a messenger baby bag.
You'll also want to consider who else will be using the nappy bag besides yourself (maybe another parent, grandparent or carer?) and if it'll be easy for them to use too.
The good news about nappy bags is that they have been purposefully designed with parent and baby in mind. Your nappy bag may look like any other bag from the exterior but inside they work hard to help make parent life a little easier.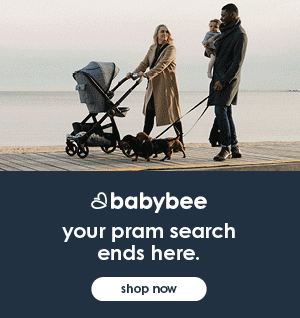 What to look for when shopping for a nappy bag?
Opt for something that is lightweight and comfortable to carry

Make sure the bag fits in and is easy to access in your pram or stroller basket

Consider a bag with a wide opening and one that's not too deep, so it's easier to find what you're looking for without having to rummage, rummage, rummage!

Look for a bag that comes with both larger compartments and smaller pockets. Larger pockets are great for nappies, toys, breast pumps, snacks or an extra change of clothes. Whereas, smaller pockets will make it easier to locate bottles, dummies or nappy cream

If possible, try and find a bag that comes with a portable changing mat or buy one that you know will fit in your bag

Look for a bag with water and stain resistant lining because spills and leaks happen regularly when you have a baby

Elasticated pockets will help keep bottles upright. Some pockets are also insulated to keep bottles warm.
Ultimately a nappy bag should be a helpful, convenient sidekick but this doesn't mean you have to compromise on your own personal style. We surveyed thousands of parents about the stylish and functional nappy bags that became their go-to carry all. Here are the results:
1: Mimco Mim-mazing Baby Backpack

Looks can be deceiving, which is the case for the Mim-mazing by Mimco. On the surface it looks like a stylish, designer backpack by one of Australia's most well known brands, which it is. But when you take a look at its inside, you'll discover it's a high functioning and highly stylish baby bag. It also incorporates various pockets and compartments throughout the exterior and interior of the bag, including an insulated pockets for bottles, a baby change mat and a detachable PVC pouch.
Key takeaways from our surveyed parents:
Parents loved that this bag was both stylish and functional

Parents felt this bag was easy to clean and wipe away spills

This bag was at the higher price range but those who purchased it felt they would use it beyond their baby years as it was a timeless design

Some parents felt the the internal large compartment could have been bigger or benefited from a wider opening, as at times it was difficult to find what they were looking for
2: LeQueen Nappy Bag Classic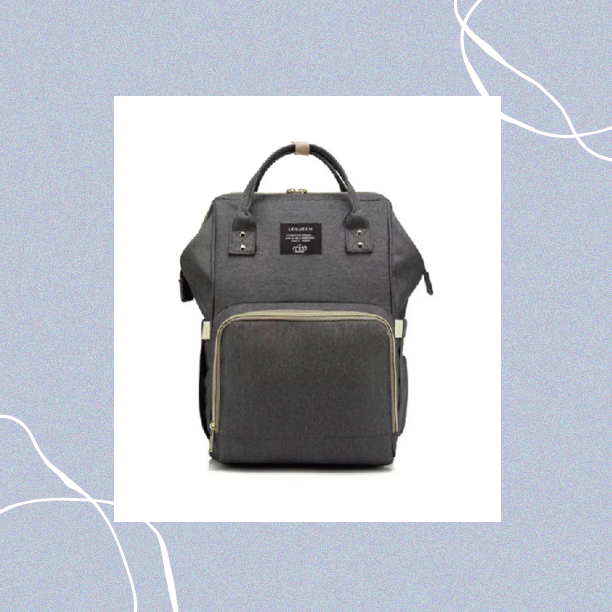 LeQueen Classic is disguised as a stylish backpack rather than a nappy bag. It comes in a huge range of colours so you can reflect your personal style. This bag has been designed with everything in mind. It offers plenty of room to store everything you need, including a large internal compartment, 14 internal and external pockets, 3 insulated bottle holders, and a dedicated baby wipes pocket. The best part? The main compartment opens wide making it really easy to find what you're looking for.
Key takeaways from our surveyed parents:
Good value and quality for the price

Parents felt this bag was just the right size for packing all the essentials 

Has a good selection of pockets and compartments to keep things organised

Parents liked the variety of prints available 

Some parents felt there could have been extra bottle pockets

Some parents found the size of the bottle pockets weren't compatible with the various shaped bottles on the market

3: Oi Oi Faux Leather Nappy Bag
Score: 8.8/10
Price: $199.95
Purchase here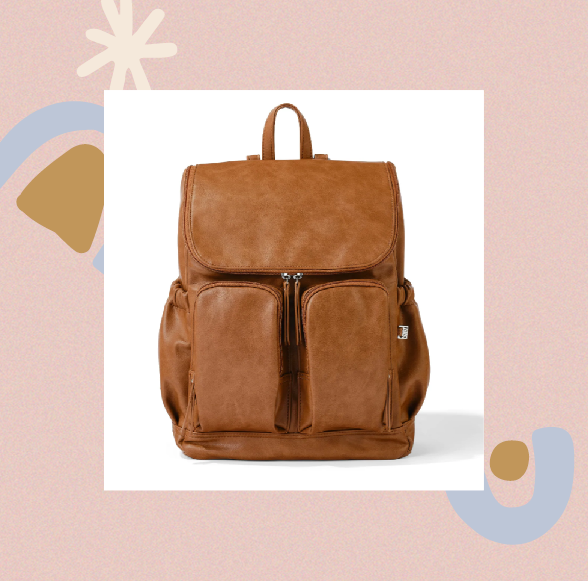 The Oi Oi Faux Leather Nappy Bag is oh so stylish, comfortable and cleverly designed. The main compartment opens fully so you can see everything inside. It's water resistant inside and out, making it so easy to clean and repel those unavoidable accidents. It comes with 8 pockets for organisation, 2 insulated bottle holders, and 2 stroller straps.
Key takeaways from our surveyed parents:
Parents liked the style and design of this nappy bag, commenting that it looked like a bag they'd use pre-baby

The faux leather is easy to clean

Has a good selection of compartments 

Great size

Some parents felt the external pockets could be a little bigger

Some parents who were using the bag for two children felt it was a little small to store their things

 

4: Colette Nylon Pocket and Zip Baby Bag
The Colette Nylon Pocket and Zip Baby Bag is a baby carryall designed to grow with you and your life stages. It can be used as a baby bag, everyday bag or overnight bag. This can be carried as a handbag or worn on the shoulder by attaching its detachable shoulder strap. This bag also comes with various pockets and sections, insulated bottle pouch and removable change mat.
Key takeaways from our surveyed parents:
Parents loved the size and style of this bag, particularly that it could be used beyond a nappy bag once your little one no longer needs one

The variety of pockets and compartments made organisation a breeze

Some parents felt the fabrics and material uses weren't as easy to clean compared to other nappy bags on the market

If carrying the bag for an extended period of time, some parents felt the shoulder strap could feel uncomfortable
This is general information only. If you need personal, health, medical or technical advice when it comes to your growing family, please seek out a professional.