Let's talk breast pumps. Some of you will use them, others won't. As we've quickly established, there's no one size fits all when it comes to parenthood. Every parent is different. Every child is different. And if you do the maths on that, we have infinite scenarios that make every day an adventure (just make sure you pack snacks!).
If you're a first time parent reading this, you've probably figured out newborns are hungry little beings. On average, newborns require around the clock feeding every 2 to 3 hours. That's a lot of feeding time. A breast pump helps lactating women express milk.
As there's no way of knowing your bub's preferred feeding method until they've arrived, we don't recommend purchasing a breast pump until after your little one is born. There's a lot of baby gear to purchase and we want to avoid purchasing anything unnecessary.
Why consider a breast pump?
First up, as mentioned not everyone will use a breast pump. It's a personal choice based on you and your bub's individual needs.
If your baby is able to latch and you prefer to exclusively breastfeed, you could possibly do without a breast pump. For those in-between moments where there's a bit of excess milk, you could hand express. However, there are several reasons where a breast pump can be helpful.
When a breast pump can be helpful
If your little one is having trouble latching. A breast pump will help you express milk, which can be used for bottle feeding.

If you want to express milk in advance. For instance, if you want to share feeding duties with other carers of your little one (perhaps another parent or grandparents), they can simply bottle feed bub.

If you're going to be away from your little one for a few hours. For instance, if you're returning to the office, you'll need to express milk throughout the day.

If your nipples are sore or cracked. Expressing can either give your nipples a break from bub, or empty the breast from milk if you have mastitis.

If you're experiencing breast engorgement. A breast pump and expressing milk can help relieve these symptoms.

For personal reasons. You know you and your baby's situation best and you get to decide what works best for you and your family.

If you're having concerns about your milk supply or breastfeeding, speak to your obstetrician, midwife, maternal child health nurse or doctor for support. You can also hire a private lactation consultant. Another helpful resource is the Australian Breastfeeding Association, who have a 24/7 breastfeeding helpline. 
What types of breast pumps are available?
The two most common types available are manual and electric but wearable breast pumps are increasing in popularity too.
Manual breast pumps are good for people who will be predominantly breastfeeding and express milk only once or twice daily. While manual breast pumps are generally more affordable, more compact and make little to no noise, they take longer to express milk and require more effort to use. Generally with a manual breast pump you can only express one breast at a time.

Electric breast pumps on the other hand are good for people who want to express milk more frequently. These pumps are generally more expensive and noisier but they are easier to use and express milk faster. Some models of electric breast pumps can also express two breasts at a time.
How to choose between a manual or electric?
It's again about personal choice but we'd recommend a manual breast pump for someone who plans to express milk once or twice daily, whereas we'd suggest an electric breast pump for someone who plans to express milk more frequently. Just note electric breast pumps are more often than not noisy!
What to look for when shopping for or hiring a breast pump?
Think about how often you'll be expressing.
If the answer is a lot, an electric pump will help speed things up and do some of the work for you. If you prefer to feed your child breast milk, expressing in advance also means you can share the load of feeding with bottle feeding.
What's your noise threshold?
While an electric pump is generally easier to use and speedier than a manual pump, they are fairly noisy. If this doesn't bother you, skip ahead. If it does and you prefer something a little more discreet, then a manual breast pump may be more preferable.
Will you need something that's portable
Will you be expressing when you're on the go or at work? If so, you'll want something that's lightweight, portable and easy to use when you're not at home. You'll also want to look for good bottling (or storage bag) options.
Buy the right size flange
You want a pump that's as comfortable as possible. This is especially important when it comes to the shields, which fit around your nipple. If the size is too small it will rub and be uncomfortable. If it's too big, the areola may be pulled into the funnel and affect milk flow. Always check the pump you buy ahead of purchase to see if you need to buy additional shields in your size.
Is it easy to clean?
You definitely want a pump that's easy to clean, sanitise and air dry. Not cleaning your pump thoroughly can lead to the development of bacteria which is harmful to both you and your baby.
If you're considering a breast pump, let us help. We surveyed thousands of Australian parents about the breast pumps they used, loved and recommend. We analysed this data and compiled the list below of those rated most highly in our TBE community.
1: Spectra S1
Score: 9.2/10
Price: From $379
Purchase here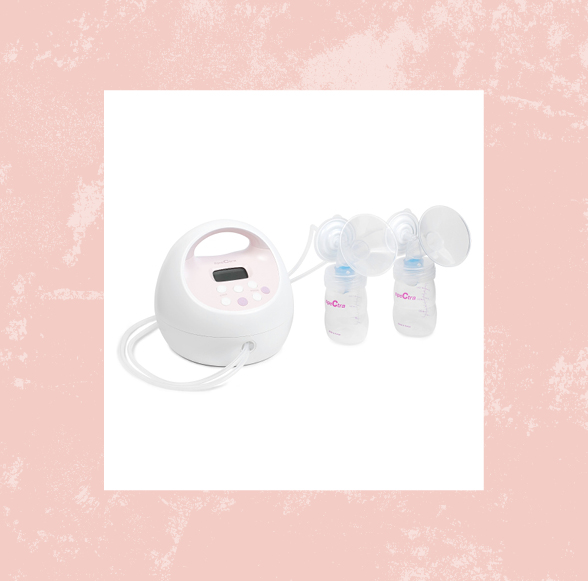 The Spectra S1 ticks all the boxes. It's a hospital grade breast pump that's quiet and has a long lasting rechargeable battery, so you don't need to worry about pumping next to a power outlet for maximum comfort.
Key takeaways from our surveyed parents:
Hospital grade efficiency

Rechargeable, so you don't need a power outlet to use it

Portable

This breast pump is quiet and allows you to pump discreetly

Parents found this pump had a good suction

This pump offers single and double pumping
2: Medela Swing Flex 2-Phase Single Electric Breast Pump
Score: 8.4/10
Price: $289.95
Note* This model below has now been replaced by the new Medela Swing Maxi 
Purchase here

The Medela Swing Flex is one of the most compact electric breast pumps on the market. While this electric breast pump does require a power outlet, the unit itself is super compact and will easily fit into your bag when you're on the go. The Medela also has built-in overflow protection ensuring no breast milk enters the tubing or motor.
Key takeaways from our surveyed parents:
This product is suitable for single pumping only

The Medela Swing Flex is compact and easy to use

This breast pump is quiet and allows you to pump discreetly

Some parents felt the cord connecting to the power unit was a little short

Parents commented on how comfortable this was to use and that it didn't leave the breast sore
3: Tommee Tippee Made For Me Single Electric Breast Pump

This is another portable and lightweight electric breast pump option. You can use it on the go or in the comfort of your own home. The Tommee Tippee comes with 5 massage and 9 express settings. Other key features include an LED screen so you can keep track of time, true portable use with 60 minutes of power to express when fully charged and powered by a lightweight USB rechargeable power unit ensuring maximum versatility!
Key takeaways from our surveyed parents:
This breast pump can be charged via mains or USB

Some parents found this breast pump a little noisy

This product was easy to use and clean

The soft silicone cup was gentle on the breast

The Made for Me can be used on-the-go for 60 minutes when it's fully charged
This is general information only. If you need personal, health, medical or technical advice when it comes to your growing family, please seek out a professional.